Rules of the Challenge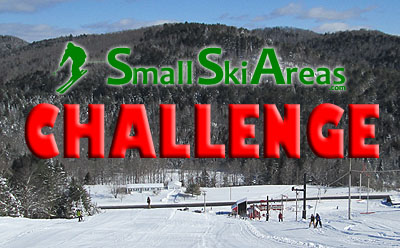 Applicant must ski at least one lift served ski or snowboard run at every area on the SmallSkiAreas.com list.
Applicants can take as many seasons as needed to finish the list, but must ski or snowboard areas added to the list in the meantime.
List of ski areas is valid through the end of the season listed above.
List is composed of ski areas prepared to operate for alpine skiing that season.
If a ski area is unable to open due to lack of snow, applicant must wait until following season to ski it.
Applicants must complete the version of the list that corresponds with the date of the final visit.
There is no application fee. SmallSkiAreas.com reserves the right to choose what names to list on the Hall of Fame.
By applying, applicant hereby claims the information submitted is accurate and can be posted SmallSkiAreas.com.
Looking for more information on the small ski areas? Check out their pages on SmallSkiAreas.com for statistics, trail maps, and directions!
Hall of Fame

New England Challenge

Bryan Turner
Feb. 28, 2015 at Eaton Mountain

New Hampshire Challenge

Jeremy Clark
Feb. 20, 2014 at Arrowhead
Bryan Turner
Feb. 22, 2014 at Red Hill